Richard Sittig
Comment

1
69pages on
this wiki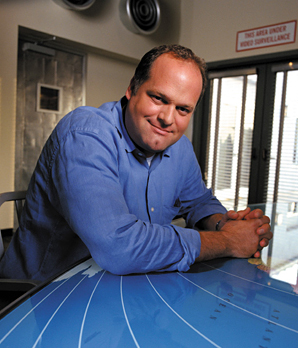 Richard "Dick" Sittig is an American commercial director and voice actor. He founded Secret Weapon Marketing and led the company as creative director. He is best known as the creator of the Jack in the Box Universe and the voice of Jack Box. Sittig is one of the ad industry's most successful commercial directors.
Early life and education
Edit
Sittig was raised in a small town in Illinois.[1]
He studied economics and finance at USC, where he took a class marketing and fell in love with the process.[2]
Advertising career
Edit
Sittig began his advertising career by offering his services for free to a small agency.[1]
Later, as an associate creative director at Della Femina, Travisano & Partners, Sittig was one of the creators of the "Joe Isuzu" campaign, which was awarded a first-prize Gold Lion at the International Advertising Film Festival in 1987.[3][4] At DDB Chicago, Sittig created the Energizer Bunny campaign in 1989, which was inducted into the Clio Hall of Fame in 2002.[5][1]
He was later hired by Chait/Day (now TBWA\Chiat\Day), where he quickly rose through the ranks to become executive director.[1] While at Chiat/Day, he proposed the Jack campaign for Jack in the Box, which had yet to recover from fallout over the 1993 E. coli outbreak. He directed the first commercial, Jack's Back, and has directed every subsequent commercial in the series. It has since become the longest running fast food commercial campaign with over 400 commercials, at an average of 22 per year.
He founded his own agency, Secret Weapon Marketing, after the Jack in the Box contract ended at Chiat/Day.
Considered the "gatekeeper" of the character, Sittig has been called "the font of Jack's continuity" and is given a lot of autonomy from Jack in the Box.[6]
Personal life
Edit
According to a random person on the internet, Sittig is "surprisingly a hardcore righty/libertarian and gives out small gold bars to his employees at the Xmas parties." [7]
Awards and honors
Edit
1987 - Gold Lion (Joe Izusu campaign)
2002 - Clio Hall of Fame (Energizer Bunny campaign)
References
Edit
↑ 1.0 1.1 1.2 1.3 Dick Sittig: Out of the Box. Directors Guild of America.
↑ Dick Sittig On The Spot. Adweek.
↑ Isuzu continues lying in wait for customers. Los Angeles Times.
↑ THE MEDIA BUSINESS; Advertising's Youth Brigade Flouts Tradition. New York Times.
↑ Energizer Bunny. Wikipedia.
↑ Dick Sittig, in Situ. Adweek.