The President was the president of the United States of America in the Jack Box Universe in 2009. Aboard Air Force One, he praised Jack in the Box CEO Jack Box on "The Big Deal" as a means to help jumpstart the economy and appointed Box part-time ambaassador to the Bahamas. 
The president is unnamed and remains unseen aside from a Caucasian left hand. He speaks in a gruff voice.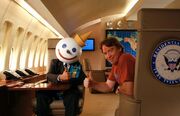 References
Edit
↑ Facebook post. 2009
↑ Family Reunion (2011)
Ad blocker interference detected!
Wikia is a free-to-use site that makes money from advertising. We have a modified experience for viewers using ad blockers

Wikia is not accessible if you've made further modifications. Remove the custom ad blocker rule(s) and the page will load as expected.