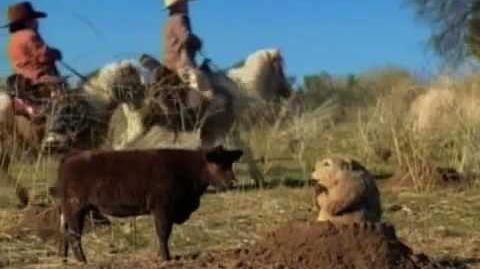 The Mini Sirloin Burgers were a food item on menus at Jack in the Box. They consisted of three miniature sirloin burgers.
Commercial
Edit
The item's commercial depicts a group of midget cowboys herding miniature sized cows, about the size of a gopher (comparatively shown at one point in the commercial), which are (specifically in the Jack in the Box Universe) specially used for Jack in the Box's "Mini Sirloin Burgers".
Way out West [echo the same words] There's a story told [echo the same words (minus "there's a)] About a bunch of cowboys Tiny & Bold [echo "Tiny and Bold"] Riding Tall [echo the same words] Tall in the Saddle; herding cows the size of schnouzers, but there cattle. [main voice and background echo voices] Yipiyaiyay Mini Sirloin Burgers, Yipiyaiyo Mini Sirloin Burgers, Yipiyaiyay Mini Sirloin Burgerrrrrs.....Yeah!
Ad blocker interference detected!
Wikia is a free-to-use site that makes money from advertising. We have a modified experience for viewers using ad blockers

Wikia is not accessible if you've made further modifications. Remove the custom ad blocker rule(s) and the page will load as expected.