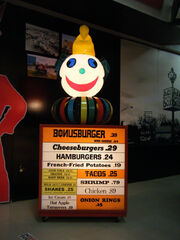 A list of items on the
Jack in the Box
menu.
As of October 2017.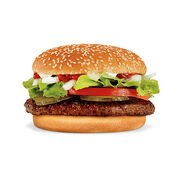 All American Ribeye Burger
Havarti & Grilled Onion Ribeye Burger

Classic Buttery Jack

Bacon & Swiss Buttery Jack

Double Jack

Spicy Sriracha Burger

Jr. Bacon Cheeseburger
Chicken & Salads
Edit
Jack's Spicy Chicken Sandwich

Jack's Spicy Chicken Sandwich with Cheese

Homestyle Ranch Chicken Club

Sourdough Grilled Chicken Club

Crispy Chicken Strips

Chicken Club Salad

Southwest Chicken Salad

Grilled Chicken Salad

Chicken Nuggets

Chicken Fajita Pita

Chicken Teriyaki Bowl

Chicken Sandwich

Side Salad
Breakfast
Edit
Ham & Egg Breakfast Pocket
Sausage

 & Egg Breakfast Pocket

Jumbo Breakfast Platter

Supreme Croissant

Sausage Croissant

Grande Sausage Breakfast Burrito

Meat Lovers Breakfast Burrito

Loaded Breakfast Sandwich

Extreme Sausage Sandwich

Ultimate Breakfast Sandwich

Grilled Breakfast Sandwich

Sausage, Egg & Cheese Biscuit

Bacon, Egg & Cheese Biscuit
Sausage Breakfast Jack
Breakfast Jack

Hash Browns

Mini Pancakes
Sriracha Curly Fry Burger

Spicy Nacho Chicken Sandwich

Stacked Grilled Cheese Burger

Chick-n-Tater Melt
Tacos, Fries & Sides
Edit
Bacon Cheddar Potato Wedges

Egg Rolls

Stuffed Jalapeños

Apple Bites with Caramel Dip
Shakes & Desserts
Edit
Oreo Cookie Ice Cream Shake

Chocolate Ice Cream Shake

Vanilla Ice Cream Shake

Strawberry Ice Cream Shake

Mini Churros

Chocolate Overload Cake

NY Style Cheesecake
Jumpin' Jack Splash
Diet

Jumpin' Jack Splash

Blood Orange Fruit Cooler
Coca-Cola Freestyle

Original Iced Coffee

Caramel Iced Coffee

Mocha Iced Coffee

Premium Roast Coffee

Fresh Brewed Ice Tea

Raspberry Ice Tea

Mango Flavored Ice Tea

Peach Flavored Ice Tea

Diet Dr. Pepper

Dr. Pepper

Diet Coke

Barq's Root Beer

Sprite

Minute Maid Lemonade

Hi-C Flashing Fruit Punch

Fanta Strawberry

Fanta Orange

Minute Maid Orange Juice

Minute Maid Apple Juice

Dasani

Bottled Water

Low Fat Milk Chug 1%
Brunchfast
Edit
Grilled French Toast Plate

Bacon & Egg Chicken Sandwich

Brunch Burger

Southwest Scrambler Plate
Homestyle Potatoes
Orange Cranberry Muffins
Seasonal items
Edit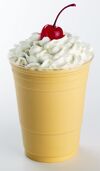 Egg Nog Ice Cream Shake
Oreo Mint Ice Cream Shake
Pumpkin Pie Ice Cream Shake
Pumpkin Spice Ice Cream Shake
Pumpkin Spice Iced Coffee
Pumpkin Spice Premium Roast Coffee
Local and test items
Edit
Beef Gyros (California, Nevada, Washington)

[Tacos, Fries & Sides]

Biscuits (Southern United States) [Tacos, Fries & Sides]
Croissant Donuts (Ramona, California) [Shakes & Dessert]
Date Ice Cream Shake (Imperial County, California) [Shakes & Dessert]
Paniolo Breakfast (Hawaii) [Breakfast]
Portuguese Platter (Hawaii) [Breakfast]
Spam Croissant (Hawaii) [Breakfast]
Spam Platter (Hawaii) [Breakfast]
Spam Teri Jr. Jack (Hawaii) [Burgers]
Sweet Tea (Southern United States) [Drinks]
Discontinued items
Edit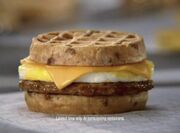 Acapulco Chicken Salad
All American Jack Burger

Aquarius Bottled Water

Bacon, Bacon Cheeseburger
Bacon Cheeseburger Supreme
Bacon 'n' Cheese Ciabatta Burger
Bacon Ice Cream Shake
Bacon Insider
Bacon Ranch Wrap
Bacon Sourdough Melt
BBQ ½ Pounder Burger

BBQ Bacon Cheeseburger

BBQ Bacon Sirloin Burger
BBQ Chicken Sandwich
BBQ Ranch Chicken Salad
Beef Gyro
Big Bacon Cheesy Burger
Big Burgers
Big Cheesy Burger
Big Waffle Stack

Birthday Cake Shake

Bistro

Buttery Jack

Bistro Jack
Black Pepper Cheeseburger
Blackberry Ice Cream Shake

BLT Cheeseburger

Blueberries 'n' Cream Milkshake
Blueberry French Toast Sticks
Blueberry Muffin Oatmeal
Bold Roast Coffee
Bonus Burger
Bourbon BBQ Steak Grilled Sandwich
Breakfast Chicken Biscuit
Breakfast Melts
Breakfast Oven Bakes
Breakfast Pita Pocket
Brownie Bites
Bruschetta Chicken Ciabatta Sandwich
Canadian Croissant

Cheddar Onion Buttery Jack

Cheesecake
Cheese Nachos
Cheesy BLT
Cheesy Macaroni Bites
Chicken & Mushroom Sandwich
Chicken Breast Pieces
Chicken Breast Strips
Chicken Caesar Sandwich
Chicken Cordon Bleu Sandwich
Chicken Fingers
Chicken, Spinach and Cheese Oven Bake
Chicken Supreme Sandwich
Chili Cheeseburger
Chili Cheese Seasoned Curly Fries
Chipotle Chicken Ciabatta Sandwich
Chipotle Chicken Club Sandwich
Chipotle Chicken Sandwich

Chipotle Jalapeño Burger

Chocolate Malted Crunch Milkshake
Chorizo Breakfast Bowl
Ciabatta Breakfast Sandwich
Ciabatta Sandwiches and Burgers

Cinnabon Iced Cinnacoffee

Club Supreme Sandwich
Colossus Burger
Country Fried Steak Sandwich
Cowboys Burger
Creamy Caramel Shake
Crescent Breakfast Sandwiches
Crispy Golden Shrimps
Crispy Jalapeño Buttery Jack
Croissant Supreme

Deli Trio Grilled Sandwich

Deli Trio Panini Melt
Deli Trio Pannido
Diner Melt Burger
Double Chocolate Fudge Cake
Dinner in the Box
Double Burger Deluxe
Double Cheeseburger
Egg White & Turkey Sandwich
Exploding Cheesy Chicken Sandwich
Fajita Ranch Melt

Fat Free Mango Smoothie

Fat Free Raspberry Smoothie

Fat Free Strawberry Banana Smoothie

Fat Free Strawberry Smoothie

Fish 'n' Chips
Fish Filet Sandwich

Fish Sandwich

French Toast Sticks
Freshly Made

Sandwiches

Frosty Banana Ice Cream Shake

Garlic Herb Fries

Golden Oreo Salted Caramel Shake
Green Salad

Grilled Chicken Fil-A Sandwich

Grilled Chicken Strips
Grilled Sourdough Burger

Guacamole & Bacon Chicken Sandwich

H'angry Chicken Hash

Ham & Swiss Burger
Ham & Turkey Melt
Ham Sourdough Melt
Hazelnut Iced Coffee
Homestyle Chicken
Hot Beef & Cheese Supreme
Hot Cinnamon Shake
Hot Club Supreme
Hot Ham & Cheese Supreme
Hot Mess Burger
Hot Mess Wedges
House Burger

Jack'd Jalapeño Hash

Jack's Bacon Blazin' Chicken Sandwich
Jack's Big Stack
Jack's Blazin' Chicken Sandwich

Jack's Brewhouse Bacon Burger

Jack's Crispy Chicken Sandwich
Jack's Fruit Coolers - Loco Lime
Jack's Fruit Coolers - Mango Mayhem
Jack's Fruit Coolers - Twisted Strawberry
Jack's Grilled Chicken Sandwich
Jack's Patty Melt

Jalapeño Bacon Breakfast Burrito

Jalapeño BBQ Burger
Kona Classic Coffee
Loaded Nuggets
Malts

Mini Cookies

Monterey Jack Burger
Natural Cut Fries
Old-Fashioned Patty Melt
Original Ciabatta Burger
Outlaw Spicy Chicken Sandwich
Oven Toasted Croissants
Pastrami Melts
Pastrami & Swiss Ciabatta Sandwich
Pastrami Grilled Sandwich
Pepper Jack Ranch Spicy Chicken Sandwich

Peppermint & Oreo Ice Cream Shake

Pesto

Chicken Sandwich

Philly Cheesesteak Oven Bake
Philly Cheesesteak Sandwich
Piña Colada Smoothie
Pita Pocket Supreme
Pita Snacks Tacos
Pizza Bites
Pizza Pockets

Portobello Mushroom Buttery Jack

Potato Wedges

Pretzel Burger
Pub Burger
Pub Chicken Sandwich
Pumpkin Pie Milkshake
Ranch Chicken Club Sandwich
Raspberry Ice Cream Shake
Really Big Chicken Sandwich
Reese's Peanut Butter Cup Pie
Root Beer Float
Salted Caramel Ice Cream Shake
Sausage Biscuit
Sausage Croissant
Scrambled Egg Pocket
Shrimp Salad
Sirloin Burger
Sirloin Cheeseburger
Sirloin Cheesesteak Sandwich
Sirloin Steak 'n' Cheddar Ciabatta Sandwich
Sirloin Steak 'n' Mushroom Ciabatta Sandwich
Sirloin Steak & Egg Burrito
Sirloin Steak Melt
Sirloin Swiss & Grilled Onion Burger
Smoked Chicken Cheddar and Bacon Sandwich
Sooper Scoop French Fries

Sourdough Bacon Ranch Burger

Sourdough Breakfast Melts

Sourdough Breakfast Sandwich

Sourdough Cheesesteak Melt
Sourdough Grilled Chicken Club
Sourdough Melts
Sourdough Ranch Chicken Sandwich
Southwest Chicken Bowl

Southwest Chicken Pita

Spicy Cheddar Wedges
Spicy Chicken Club Sandwich
Spicy Chicken Wings
Spicy Crispy Chicken Sandwich

Spicy Nacho Seasoned Curly Fries

Steak & Egg Breakfast Burrito
Steak & Egg Burrito
Steak Fajita Melt
Steak Fajita Pita
Steak Teriyaki Bowl
Strawberry Banana Ice Cream Shake
Super Taco
Sweet Potato Fries
Swiss & Bacon Burger Supreme
Taco Nachos
Taco Salad with Spicy Bacon and Tortilla Chips
Taquitos
Thai Chicken Wrap
Thin-Sliced Sirloin Steak Sandwich
Toasted Raviolis

Triple Bacon Buttery Jack

Triple Cheese & Hash Brown Breakfast Burrito

Tropical Banana Smoothie
Tropical Frozen Yogurt Smoothie
Tropical Mango Smoothie
Tropical Strawberry Smoothie

Turkey Bacon Cheddar Grilled Sandwich

Turkey Bacon Cheddar Panini Melt
Ultimate Club Sandwich
Vanilla Iced Coffee
Vanilla Malted Crunch Milkshake

Wakey Bakey Hash

Zesty Turkey Pannido
Ad blocker interference detected!
Wikia is a free-to-use site that makes money from advertising. We have a modified experience for viewers using ad blockers

Wikia is not accessible if you've made further modifications. Remove the custom ad blocker rule(s) and the page will load as expected.