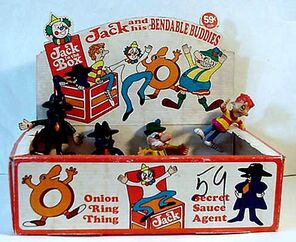 Jack's Bendable Buddies was a set of five rubber figurines of the Jack in the Box Bunch characters sold by Jack in the Box in 1974.
The figures were manufactured by Imperial Toy Company, based in Los Angeles.
Jack's Bendable Buddies initially sold for 25 cents each with any purchase. The price appears to have increased to 29 cents by Christmas, and eventually 59 cents.
Ad blocker interference detected!
Wikia is a free-to-use site that makes money from advertising. We have a modified experience for viewers using ad blockers

Wikia is not accessible if you've made further modifications. Remove the custom ad blocker rule(s) and the page will load as expected.