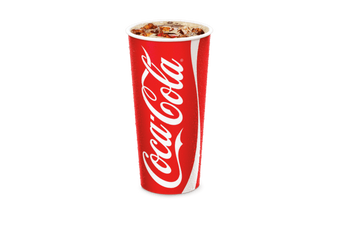 Coca-Cola Classic
is a carbonated soft drink sold in stores, restaurants, and vending machines throughout the world. It is produced by The Coca-Cola Company of Atlanta, Georgia, and is often referred to simply as
Coke
(a registered trademark of The Coca-Cola Company in the United States since March 27, 1944). Originally intended as a patent medicine when it was invented in the late 19th century by John Pemberton, Coca-Cola was bought out by businessman Asa Griggs Candler, whose marketing tactics led Coke to its dominance of the world soft-drink market throughout the 20th century.
Coca-Cola Classic was added to the Jack in the Box menu in 1971, replacing Jack Cola.[1]
The purpose of the "Classic" designation is unclear. Perhaps it is meant to clarify that the long-discontinued New Coke has not made an exclusive resurrection at Jack in the Box.
On occasion, Jack in the Box has sold exclusive Coke-branded glasses.
In 2009, ten Jack in the Box locations were among the first restaurants to feature the Coca-Cola Freestyle touch screen soda fountain.[2]
References
Edit
Ad blocker interference detected!
Wikia is a free-to-use site that makes money from advertising. We have a modified experience for viewers using ad blockers

Wikia is not accessible if you've made further modifications. Remove the custom ad blocker rule(s) and the page will load as expected.