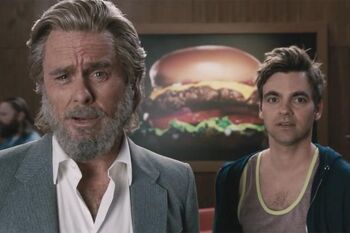 CKE Restaurants Holdings, Inc., is the parent company of the Carl's Jr., Hardee's, Green Burrito, and Red Burrito restaurants, which are competitors to Jack in the Box and Jack in the Box subsidiary Qdoba Mexican Grill.
The company's headquarters are located in Carpinteria, California. As of March 2016, CKE has a total of 3,664 franchised or company-operated restaurants in 44 states and 38 foreign countries and U.S. territories. It is a privately-held company.
Relationship with Jack in the Box
Edit
In 2007, CKE Restaurants sued Jack in the Box over a couple commercials for sirloin burgers which made the false implication that angus beef is derived from a cow's anus.[1] The case, CKE Restaurant v. Jack in the Box, Inc., was eventually settled and dismissed, but the terms of the settlement were not publicly disclosed.[2]
In 2017, Carl's Jr. and Hardee's launched a new advertising campaign based around the company's fictional founder, Carl Hardee, Sr. returning to the role of CEO after years of mismanagement by his immature, sex-obsessed son. The concept of a fictional larger-than-life founder of a hamburger fast food restaurant returning as CEO after an extended absence to set things right, who has a son named after him with questionable business ideas, is suspiciously similar to the Jack Box canon.
John J. Dunion, Chief Supply Chain Officer of CKE Restaurants, previously worked at Jack in the Box.[3]
External links
Edit
References
Edit
↑ CKE Restaurants sues Jack in the Box over beef ads. Reuters. May 25, 2007.
↑ Trump labor nominee's company sued rival for implying its burgers came from cow's anus. CNNMoney. February 3, 2017.
↑ Management Team. CKE Restaurants.